HOME
Sure Stay Plus Hotel by Best Western Shin-Osakain conveniently located facing the main street, and is 7 minutes walk from Nishinakajima-Minamigata station on the Midousuji Line subway.Our hotel is reasonable priced, but we welcome you with extensive facilities and service.
From business matters to family trips, we surely meet your expectations with a spacious bathroom, LCD TV with satellite channel function, washlet(the toilet equipped with a bidet function) in every quest room.
In addition, high-speed LAN connection, fridge and hairdryer lead to your cozy staying.
ACCOMMODATION
Standard Double Room

Spacious rooms are complete with a wide range of amenities, Simmons' beds and Wi-Fi access, which guarantees the comfort of our guests.

Our standard-type double rooms cater to the need of both leisure and business travelers.

| | |
| --- | --- |
| Square Meters | 16m&sup2 |
| Pax | 1~2 |
| Bed Size | 120㎝×1 |

Deluxe Double Room

Spacious rooms are complete with a wide range of amenities, Simmons' beds and Wi-Fi access, which guarantees the comfort of our guests. These rooms offer a little more luxury for both leisure and business travelers.

| | |
| --- | --- |
| Square Meters | 16m&sup2 |
| Pax | 1~2 |
| Bed Size | 140㎝×1 |

Standard Twin Room

Spacious rooms are complete with a wide range of amenities, Simmons' beds and Wi-Fi access, which guarantees the comfort of our guests. Our standard-type twin rooms cater to the need of both leisure and business travelers.

| | |
| --- | --- |
| Square Meters | 16m&sup2 |
| Pax | 1~2 |
| Bed Size | 110㎝×2 |

Hollywood Twin Room

Spacious rooms are complete with a wide range of amenities, Simmons' beds and Wi-Fi access, which guarantees the comfort of our guests. This room has hollywood style 2 beds, it's good for family and any children.

| | |
| --- | --- |
| Square Meters | 20m&sup2 |
| Pax | 1~2 |
| Bed Size | 110㎝×2 |

Deluxe Twin Room

High quality twin room with extra space and wider beds. Room amenities include two 120cm wide beds, television, and Air Purifier. Wider beds and extra space promise a truly comfortable stay. Best for leisure guests.

| | |
| --- | --- |
| Square Meters | 20~25m&sup2 |
| Pax | 1~3 |
| Bed Size | 120㎝×2 |

Family Room

The room is equipped with full of amenities and Simmons' beds, and comfort and coziness you can feel only in our spacious room complete with Wi-Fi access. It is the perfect choice for a family on vacation, a group of friends on a trip, or group travelers.

| | |
| --- | --- |
| Square Meters | 42m&sup2 |
| Pax | 1~4 |
| Bed Size | 120㎝×4 |

Executive Twin Room

Spacious rooms are complete with a wide range of amenities, Simmons' beds and Wi-Fi access, which guarantees the comfort of our guests. These rooms suit both leisure and business travelers who wish to have a little more luxury for their stay.

| | |
| --- | --- |
| Square Meters | 42m&sup2 |
| Pax | 1~2 |
| Bed Size | 120㎝×2 |
Room facilities
Desk
TV
High-speed Internet access (wired LAN and Wi-Fi)
Telephone
Air conditioning
Refrigerator
Electric kettle
Bathtub
Shower
Bidet(electronic toilet seat)
Air purifier
Amenities
Shampoo
Conditioner
Body soap
Toothbrush
Hair brush
Razor
Hair dryer
Green tea
Coffee
Slippers
Bath towel
Face towel
Nightwear
Shoe-shine Paper
RESTAURANT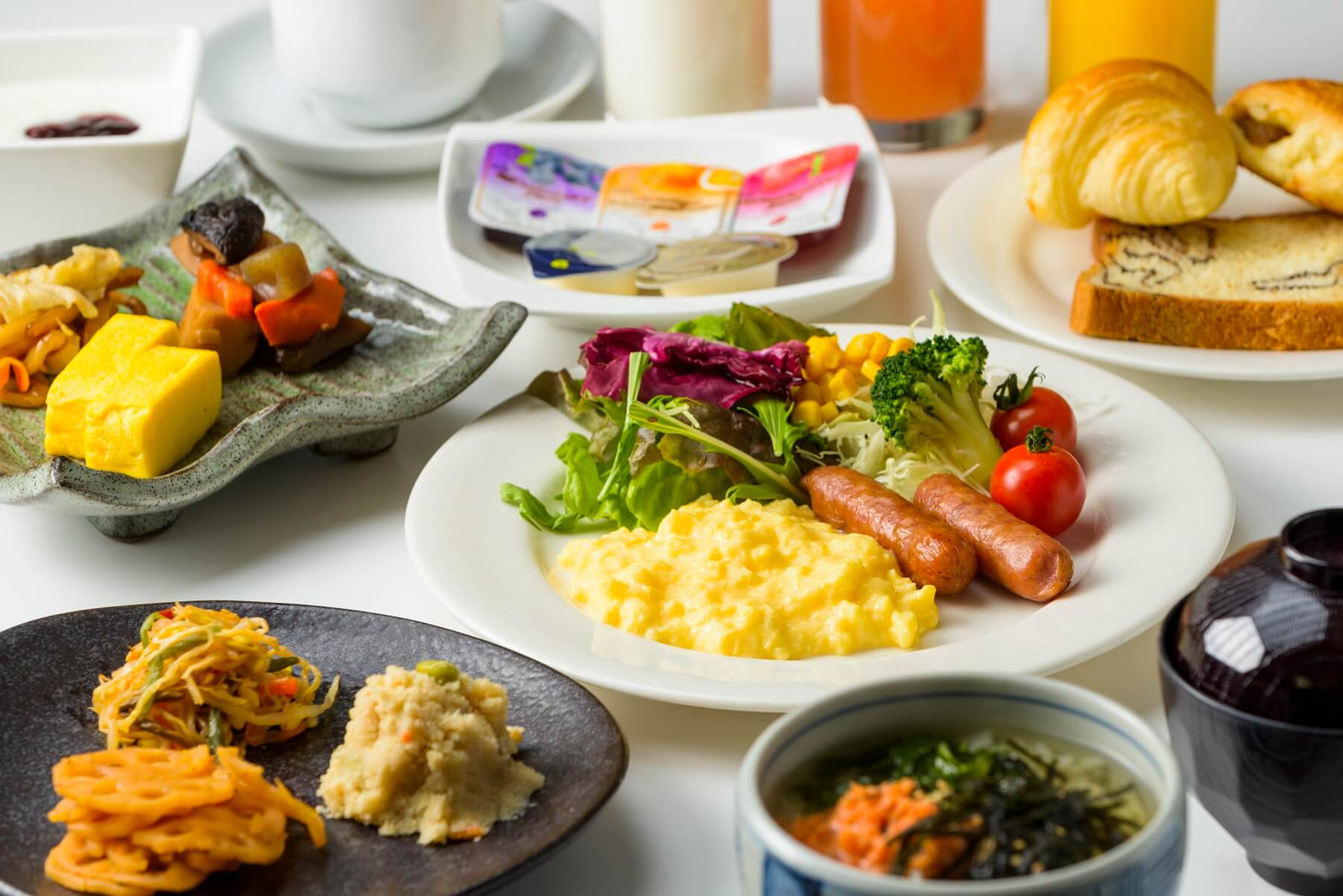 RESTAURANT FINO
Our popular buffet-style breakfast are available daily. Our restaurant is on the 2nd floor.

Breskfast time 6:30~9:30
LOCATION
SureStay PLUS Hotel by Best Western Shin-Osaka
2-11-21, Nishi-nakajima, Yodogawa-ku, Osaka-shi, Osaka 532-0011 Japan
PHONE:06-6886-3939 | FAX:06-6886-3900
EMAIL:shin-osaka@bwhotels.jp